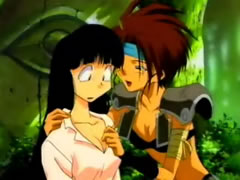 Hey, nice set of updates you have there!

6-14-09: About time, I know! At any rate, I've got scans from the first four volumes of Tetragrammaton Labyrinth for your perusal, and after you've done that, go check out the parody I wrote about it. For AMV fans, we have a somber one right here. Enjoy and I have a BIG update coming next month - just in time for Otakon!

12-23-08: That's right, I haven't forsaken the site, and I've got a new AMV up for grabs- now you can't say you didn't get anything for Christmas!
7-30-08: A little later than promised, but finally here! For the Strawberry Panic fans, there are scans! For both Murder Princess fans, there are scans! (Okay, maybe there are three of us, I'm hoping there will be four after I post lol). For AMV junkies, got a new one for you, Make up Noir Mind. Hmmmm...can you guess which anime I used?

5-7-08: It's just an AMV update but Nana fans, rejoice! I had absolutely no inclination to make a Nana AMV (having only seen the first episode and not read much of the manga) but then I heard a song that just commanded me to create Cherish Nana. And for those that have asked, yes I do have a new YouTube account (see the sordid details on why in the News section). You can now find me at http://www.youtube.com/BakablondesAMVS. Either way, enoy the yuri!
Welcome to my shoujo-ai anime retreat. This site is continually a work in progress, so please remember to check back to see the updates! I started this site because I felt there is a shortage of shoujo-ai (or yuri, if you prefer) sites on the net, and an even greater shortage of shoujo-ai AMV's. My primary goal here is to make available fanfiction and AMV's about female couples that you may not see elsewhere, as well as the more "common" ones. I've made AMV's for such series as Kannazuki no Miko, Bakuretsu Tenshi (or Burst Angel, if you Americanize it), Madlax, Devil Lady, my Hime, Sol Bianca, Uta Kata, Maria Sama ga Miteru, Utena, Jubei Chan 2, Shinobuden (Ninja Nonsense) and more! Anything extra just gets thrown in the "stuff" section- and like a junky closet, anything in there may be transient in nature.
Things you won't find here: Annoying banner ads, pop-ups, episodes, or those kinds of pictures. Some things are better left to the imagination.